The topic of the possibility of using blockchain in transport is generating more and more excitement. This is not surprising, as blockchain technology can become a catalyst for digital transformation in the transport and logistics industry. However, to understand the potential of blockchain in transport, one needs to be familiar with the latest trends and identify relevant use cases for solutions based on such methods. How to use blockchain technology in transportation? We will discuss this later in this article.
Table of contents
Blockchain in the transportation industry and logistic
Until recently, blockchain technology was associated primarily with cryptocurrencies. Today, it is inevitable that its application may be much more comprehensive, and the opportunities it offers may benefit transport and logistics, among others. Practice shows that blockchain technology can be successfully combined with the supply chain, thus creating a structure with solid links. What will the transportation industry gain from blockchain technology? Speeding up orders and deliveries, automating millions of processes, and greater security of all the transactions are just a few of the key benefits.
Blockchain use case in transportation
Blockchain in transportation offers many possibilities. Actual use cases show that it can be applied to:
Digitizing transport documents – so that they can be digitally accessible to all participants in logistics processes at every stage of the supply chain – from factory and warehouse workers to dispatchers to drivers and end customers. The idea is that everyone will not only be able to access them from any device (including mobile ones) but will also be able to edit and change them in real-time if necessary, immediately informing all parties involved in the communication of any changes, delays or transport route suggestions;
Cost reduction – with the help of blockchain technology in the transportation industry, it is possible to reduce costs and increase the efficiency of operations by integrating all information about shipments on one secure platform, accessible to shippers, carriers, forwarders and other companies present in the supply chain. The result is improved efficiency and security in international trade;
Faster digitalization of transport and logistics – blockchain technology is a perfect complement to the electronic data exchange, which assumes the complete digitalization of the document flow. Today, the transport industry is still primarily analogue – waybills, order forms, receipts, certificates or declarations of specific goods are very often issued and exchanged in paper form. Not to mention invoices. This not only delays the whole order fulfillment process or creates the risk of losing them during transport and creating payment bottlenecks but also requires a massive amount of work to enter data from these documents into the IT systems of transport companies. With blockchain technology, most of these tasks can be automated and executed digitally;
Increased security – the blockchain interface guarantees greater confidentiality of transmitted data, preventing access by unauthorized persons. The data is dispersed across multiple blocks so that there is no one specific weak point in the system that cybercriminals can exploit. This, in the context of hacker activity in the transport and logistics industry, is of great importance because not only is confidential data at risk, but there is also the risk of taking control over the on-board equipment of modern vehicles – road and rail as well as aircraft;
Transparency and unchangeability of data – all information stored in the blockchain is transparent and cannot be changed, thus eliminating falsifications. Each subsequent event, or block, is linked to the previous one, making it impossible to change any of the historical data. These are fundamental issues for the transportation industry, where supply chains are complex and human error can cause complications.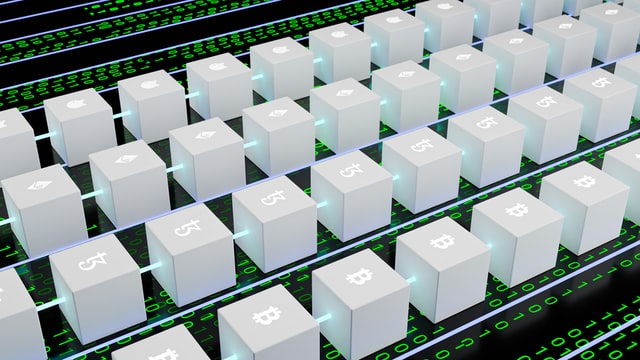 Blockchain technology in the transportation industry – what does the future hold?
Companies' approach to implementing digital tools based on blockchain technology will determine whether the transportation industry will take on a whole new dimension. However, we already know that switching to this way of handling logistics processes is expected to save money, speed up processes and increase their security. So certainly, this direction of development and use of blockchain technology in the transportation industry will thrive in the coming years.
Are you wondering how blockchain technology impacts other sectors? You may also like: