Today, the word "blockchain" most often appears next to the word "Bitcoin". Many people even confuse the two terms. However, as it turns out, blockchain technology applies not only to cryptocurrencies. It also successfully supports the media and entertainment industry. In what way? You'll read about that later in this article.
Table of contents
Blockchain in the media and entertainment industry
Blockchain in media and entertainment can be used in many ways. This is primarily influenced by the conditions in these sectors. Numerous intermediaries, unequal distribution of profits from concerts and other media events, and often changing consumption habits of the audience make blockchain in media and entertainment adaptable, as it allows to eliminate bad links, improve digital rights management and create a transparent system for all participants, including authors and advertisers. Blockchain technology also supports the development of new business models, which have been transformed in the media and entertainment industry, due to the long-running pandemic.
Blockchain in the media and entertainment market – how are these industries using NTF?
First, let's explain what NTF is. NFTs, or non-exchangeable tokens, which were created on the blockchain, are digital certificates of authenticity confirming the uniqueness of a given work. They can represent tangible and intangible assets – from works of art to games, collectable cards, sports, music, movies, virtual real estate, and more. Today, NFT is virtually everywhere in media and entertainment, technology, and even influencers. In other words, in places where you can make money from something that is sometimes hard to give value to in the real world.
Why are blockchain and NTF so popular in the media and entertainment world? It stems from a simple reason. These industries often struggle with the problem of copyright. In standard conditions, the creator of a "digital work" – a photograph, an article or a recording – may at most conclude a civil-law agreement specifying who may reproduce his work and in what fields of exploitation and by introducing a form of a watermark prove the origin of the copy. In the case of blockchain and NTF, it is known precisely who owns a given digital resource at any given time.
Importantly, this information is available in the public distributed registry. So it doesn't matter which copy of the digital asset you are viewing or copying. You always know who the original owner is. If the digital resource changes ownership, this will be recorded appropriately in the blocks. This is not the end of blockchain technology applications in media and entertainment. We will discuss the next ones later in the article.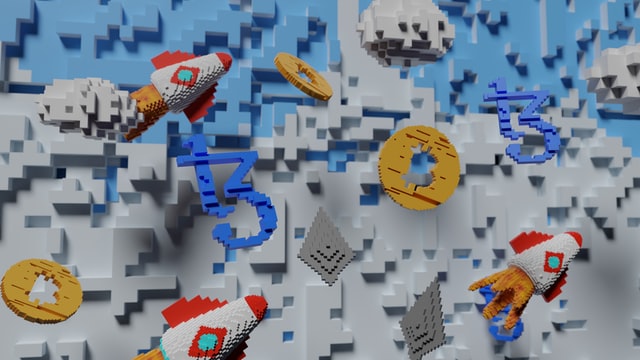 Blockchain use cases in media and entertainment
Regulating payments with the help of blockchain
A big problem facing the media and entertainment industries is royalties. It is often the case that profits mainly go to the intermediaries' wallets while the creators earn little. With blockchain technology and smart contracts, this problem can be eliminated. They make it possible to precisely define the conditions – when, who and for what should get paid. For example, music creators can receive royalties whenever their song is played. With the help of blockchain in media and entertainment, it is possible to create a fair and efficient system that will adequately reward artists for their work.
Micropayments are not a new concept. Since the mid-1990s, micropayments have enjoyed varying degrees of popularity. They mainly concern digital transactions of intangible goods and are gaining popularity with blockchain development. Today they are pretty commonly used as an alternative to the subscription model in which many portals with music, videos or movies operate. They successfully support usage-based consumption models that allow consumers to pay for precisely what they want. By combining micropayments with smart contracts, we ensure that the creators also benefit – a win-win situation is guaranteed.
Creation of advertising campaigns
There is no effective advertising without relevant data. Users' Internet activity allows them to know better their shopping habits, ways of product searching, trends and reactions to posts published on social media, brand loyalty or most frequently encountered problems. Using blockchain capabilities, you can collect this kind of data and efficiently distribute it to all interested parties in a secure environment. The possibility of data being unauthorized or sold to other companies then decreases. Blockchain technology in media and entertainment also effectively eliminates advertising fraud by ensuring that the correct data is collected on advertising engagement metrics – from clicks and impressions to lead generation.
The future of blockchain in media and entertainment
The use of blockchain technology in media and entertainment continues to grow. It eliminates too much involvement of intermediaries, streamlining royalty payments, better vigilance over copyrights, and better customer-centricity. This, in turn, positively impacts the stable development of the media and entertainment industry by increasing revenues, introducing new business models, and building long-term relationships with audiences.
Are you wondering how blockchain technology impacts other sectors? You may also like: