Interest in cryptocurrency trading is constantly growing. This is not without reason – in times when fully secure financial instruments do not bring the expected profits, investors focused on multiplying their funds decide to use alternatives. High potential profits are offered to them by the cryptocurrency market, which is connected with considerable risk. To minimize it and increase the chances of investment success, it is necessary to define a plan of action in the cryptocurrency exchange. Which investment strategies are worth knowing?
Table of contents
How to invest in cryptocurrencies?
Investing in cryptocurrencies is characterized by a high level of risk and potential profit. For this reason, it requires having the proper knowledge and choosing an effective strategy. Based on their duration, investment strategies can be divided into short-term (including daily) and long-term.
Short-term investing is based on buying virtual currency and closely following its exchange rates. According to the principle "cheaper to buy, more expensive to sell", when the price of the purchased coin increases in relation to the rate for which it was purchased, it is sold by the investor at a higher price. The price difference represents his profit on the investment.
How to invest in cryptocurrency stocks? An alternative to short-term investments are long-term investments, which last from several months to even several years. In their case, the investor believes in the ultimate growth of a given cryptocurrency in the long run. At the same time, they are not worried about short-term spikes in prices, which are the determinants of success for traders investing for the short term.
There are two methods of investing in cryptocurrencies – through brokers and on a cryptocurrency exchange.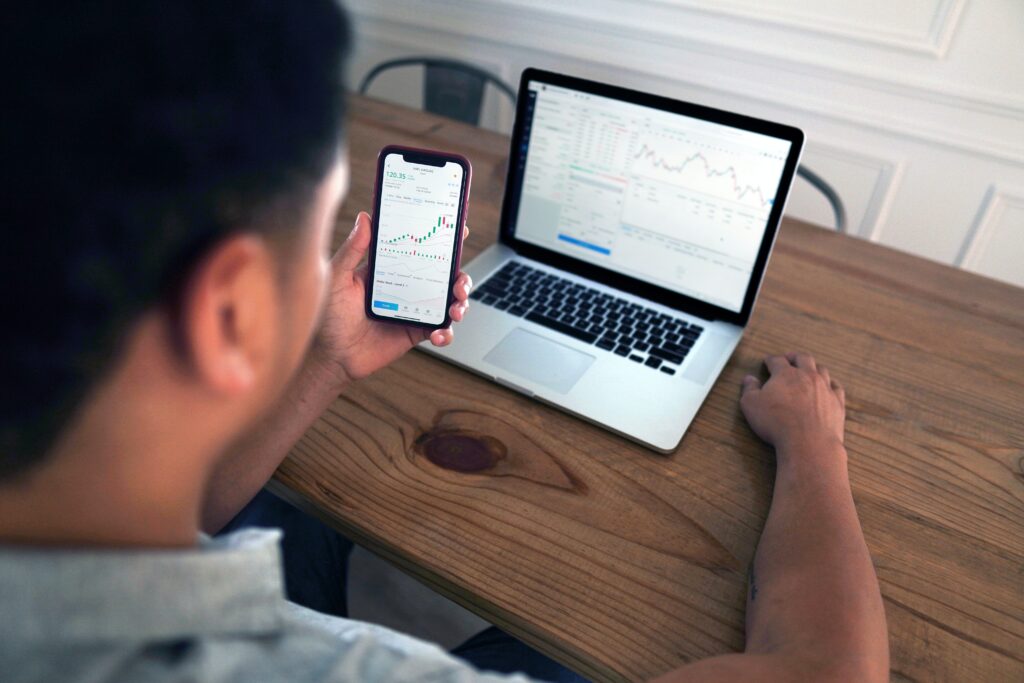 Cryptocurrency trading strategy – why is it so important?
The cryptocurrency market offers a wide range of opportunities for novice investors. Investing in cryptocurrencies can pay off by providing them with very high returns. However, it may turn out to expose the trader to losses. Therefore, the first step for investors interested in cryptocurrencies is to develop a trading strategy, understood as a set of actions to generate profit from cryptocurrency trading. Having it is essential in the case of a volatile virtual currency market – thanks to it, we have a chance to maximize potential profits. The action plan also limits the financial risk associated with the market that is prone to price fluctuations and exposed to speculation. It is also worth remembering to diversify your investment portfolio by placing funds in other financial instruments.
Since there are many trading strategies, we will discuss a selection of the most popular ones that will help you achieve profitable returns.
Day trading
The term "day trading" originates from traditional markets, where trading is open only during certain day hours. Nevertheless, today it is widely used in online trading. It is trendy among cryptocurrency investors. Most digital currency trading platforms are open 24 hours a day, 365 days a year. So day trading is used in a slightly different context when it comes to cryptocurrency markets. It usually refers to a short-term style of trading where traders enter and exit positions within 24 hours or even faster. It is a strategy geared towards making a profit within a day or one stock market cycle in the simplest terms. Day trading, although profitable, is also stressful and high risk – that is why it is recommended especially for advanced traders.
Scalping cryptocurrencies
Another short-term cryptocurrency trading strategy characterized by low risk and immediate profit is scalping. This term is used to describe an activity that involves making small profits from the daily, small movements of cryptocurrencies in the market without considering clear trends. Scalping requires a trader to make multiple interventions throughout the day – through these interventions, they generate small profits that add up over time to a larger amount. A good scalper must act regularly and quickly, skillfully reading charts showing the chosen cryptocurrencies. Traders who use scalping to gather profits must also have a predefined exit strategy. This will protect them from losses that will eat up their patiently made profits.
Swing trading
By definition, swing trading is a strategy that involves holding a position for more than one day but less than a few weeks. In terms of time frame, swing trading is between day and trend trading, which we will discuss in the next section. Furthermore, swing trading strategies are based on technical analysis supported by fundamental analysis, which allows you to make more rational and, therefore, accurate decisions. Thus, swing trading can be the most convenient active trading strategy for beginners, making decisions with less haste and less stress.
Trend trading
The last strategy we have selected is trend trading, also referred to as position trading. The trend trading strategy is long-term, usually several months, traders using it take advantage of the current trends in the cryptocurrency market. A trend trading strategy assumes that the underlying asset will follow the direction of the trend. At the same time, traders within a risky trend trading strategy must always consider the possibility of a trend reversing and losing money. Therefore, trend trading can be ideal for novice traders, provided they can manage risk.
Traders starting in the financial markets wonder what tactics they should use at the beginning of their trading journey. A well-thought-out trading strategy is essential for trading all kinds of financial instruments, including the currently popular cryptocurrencies.
Read more about the most popular blockchains.