Blockchain technology is revolutionizing various areas of life. Its use opens up new opportunities for the agriculture industry, which faces many challenges regarding the accuracy, consistency, and security of food production and distribution data. What are the advantages of blockchain technology in agriculture? What are its applications in this sector? Read to learn more!
Blockchain technology in agriculture – what is it?
At the outset, let's explain what blockchain technology in agriculture is. Blockchain technology is a distributed database based on a set of interconnected nodes in which data and information about various types of transactions and operations are recorded and stored without third parties. Furthermore, consensus models between nodes allow for creating secure and trustworthy data records. Blockchain networks aim to increase transparency and accountability, which is seen as an essential part of modern agriculture.
Blockchain as the answer to agriculture's problems
According to experts, blockchain technology can play a significant role in the agricultural sector's future. It can be used primarily to promote food security, prevent fraud in the food market, and verify the origin and authenticity of farming products. Thus, it provides an excellent answer to the market's challenges.
Main advantages of blockchain technology in agriculture include:
low transparency and trust in food supply chains,
high demand for quickly available and confirmed information on food products,
the growing number of certificates and the associated risk of fraud,
high cost and inefficiency of paper-based systems and traditional IT solutions.
In the following part, we take a closer look at the role of blockchain technology in agriculture.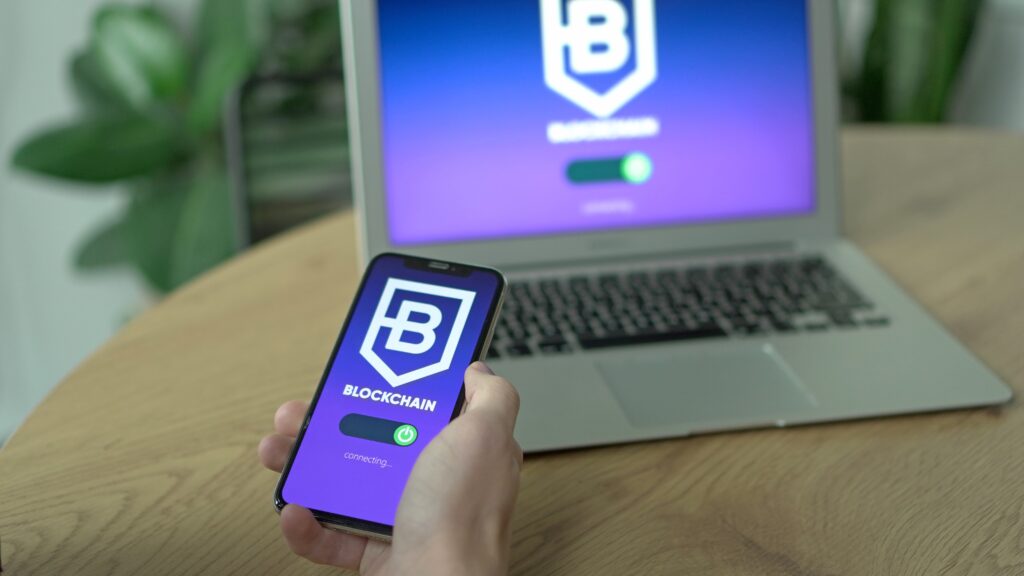 Promising benefits of blockchain technology in agriculture market
Blockchain technology in agriculture market allows all production elements to be identified transparently and understandably. With it, suboptimal processes or those that could be considered fraudulent can be detected, for example, in the area of food safety. Early recognition of the problem, including the source of contamination of food products, allows for the rapid initiation of the actions necessary to prevent various diseases that can generate losses in production. Blockchain, primarily known for the cryptocurrency market, is proving to be a great tool to monitor the circulation of food, as well as to fight against food waste, which is one of the main challenges for this sector. Blockchain can help reduce waste and ensure consumers access the freshest food.
Exemplary applications of blockchain technology in agriculture
There are many possible applications of blockchain technology in agriculture market. Moreover, new ones are being developed based on numerous technological innovations.
Supply chain optimization
Supply chains are incredibly long and include many parties using their tracking solutions. However, transparency in logistics is limited, and customers often don't know where the food they find on store shelves comes from. A blockchain-based supply chain solution tracks goods using unique identifiers, including QR codes scanned at each location. Thus, digital pathways of each product can be created – in a farm-to-table model.
Compliance and quality control
In the agricultural systems in use today, data is primarily private. There are no publicly available sources to confirm that a product has been grown, stored and transported according to quality standards. The use of blockchain technology in agriculture could change that – critical data stored on the data chain is fully accessible to authorized parties, allowing them to control compliance and product quality. Such a solution is also crucial for customers, for whom the quality of products and the path of their creation plays an increasingly important role in the purchasing process. Blockchain in agriculture will allow consumers to trust the provenance of verified food, which will be especially important in the growing interest in organic and fair-trade products.
Financing agriculture
Because of its ability to store and transmit transaction information, blockchain technology can also be used in the process of paying subsidies to farmers, ensuring broad access to agricultural subsidy programs. In addition, the technology offers farmers the ability to negotiate prices of farming products online and even supports the implementation of land sale processes. For example, the government of Georgia is currently using blockchain to register land titles.
The takeaway
The above ways are just some potential uses of blockchain technology in agriculture. As in other sectors, a distributed accounting system opens up the possibility for many innovative solutions and new, cutting-edge options are still being developed to make processes more efficient and secure.