The use of cryptocurrencies in various industries and business sectors is growing steadily, economic studies show. How, for example, can cryptocurrencies be used in business? How are the giants doing it? What to pay attention to? Read our article, from which you will learn how does cryptocurrency affect business.
Table of contents
Growing Crypto Adoption
It is no surprise that sustainable tech titan, Elon Musk has been catching the attention of Social Media of late. By now, anyone who hasn't been living under a rock knows that he is touted as the father of the meme-coin Dogecoin and has been teasing netizens with his Twitter bio update to include BTC. He took this further by purchasing a staggering $1.5 billion worth of Bitcoin for his electric car company, Tesla. 
Whether the financial sector is ready to admit it or not, the adoption of cryptocurrencies as viable assets of trade and transaction has been growing. And at an exponential rate at that. 
A recent survey of American ownership of crypto published by Exploding Topics.com has rendered an impressive 51%. This is a surprising jump from last year's 15% as reported by Forbes. 
Among the early adopters is MicroStrategy CEO Michael Saylor who was the first to endorse Bitcoin. Saylor, who headlines the publicly-traded firm, went on record to say that the digital coin is superior even to cash.
Known payment gateway provider PayPal has also integrated crypto into its offerings. They have done this by allowing their users to purchase and conduct transactions with BTC, ETH, LTC, and Bitcoin Cash. Recent data disclosed by the provider has shown total spending of more than 2 million online sellers in the United States. 
Meanwhile, payment giants Visa and Mastercard have also created provisions to process transactions back in 2021. 
On top of these reputable firms, countries and certain regions in the United States have come to adopt cryptocurrency on a local scale. 
For instance, the state of Minnesota has boosted mainstream acceptance of cryptocurrencies through the distribution of Bitcoin ATMs across the state. According to Minnesota Professor Vivian Fang, the crypto available in the ATMs can be used to buy necessities like food and clothes at leading chains in Minnesota. The educator also said that large purchases such as real estate and travel tickets are also in the cards for crypto.
Meanwhile, in a U.N. report shared by Bitcoin.com, Venezuela ranked third among the countries that had fully embraced crypto usage. Of the 28,269,251 of the country's recorded population, 10.3% had been reported to own cryptocurrencies. The country that ranked first on the list is Ukraine with 12.7%, while Russia landed second place with 11.9%. 
And while the cryptocurrency sector has indeed seen better days, loyalists believe that this "crypto winter" is temporary and will not have any lasting effect. 
What Business Owners Need to Know About Cryptocurrencies
Apart from what had already been discussed, some small and medium-scale businesses have already integrated cryptocurrencies by compensating their employees through digital assets. These organizations mostly deal directly with blockchain technology or undertake crypto or NFT-related projects such as Play-to-Earn games or metaverse development. 
However, the implementation of such a measure cannot simply be confined to crypto companies. But before we delve into how cryptocurrencies can affect businesses, some things need to be pointed out first.
For the uninitiated, the mere mention of cryptocurrencies may not be appealing. More often than not, the concept elicits thoughts and feelings that spring from common misconceptions. Let us look at three of them and shed light on why these are just mere myths.
Cryptocurrencies are limitless
The fear of oversupply dominates the minds of those who are not oriented toward the technicality of cryptocurrencies. People think that owing to its digital nature, the asset can be created and mined in perpetuity. This is simply not the truth.
Looking at Bitcoin, for example, its developers have placed its Supply Limit at 21,000,000. Bitcoin and all altcoins have been programmed with a limited supply to prevent inflation. 
As a point of information, BTC's entire supply is projected to be completely available to the public until the year 2140.
Cryptocurrency prices are guaranteed to go up
This can easily be refuted. While cryptocurrency adoption is on a rise, this does not necessarily mean that the prices for these assets are guaranteed to climb. The recent slump proves otherwise–something that crypto loyalists consider to be just a part of the asset's cycle. 
More importantly, demand still dictates if the value of the digital asset will go up. Several factors might help bolster this, one of them is if cryptocurrencies will become a universal payment tool. If such a condition does not come to fruition, the value of crypto may still see some fluctuations in the prices but is not necessarily guaranteed to appreciate.
All cryptocurrencies have an equal impact on the environment
Although a study published by Time Magazine had discovered the combined energy usage of BTC miners to total 91TWh, saying that all of the coins will follow suit is simply not true.
BTC mining's energy consumption is the way that it is due to Bitcoin's usage of Proof of Work (PoW). PoW pertains to a contest among miners to answer cryptographic equations to validate users' transactions in a chain. This renders blockchain rewards but at the same time consumes great energy due to the involvement of almost all miners running multiple machines. 
However, several coins make use of Proof of Stake (PoS) which simply takes validators randomly to check the validity and reliability of a transaction. According to studies, the PoS system is 99% lower in energy consumption compared to that of PoW.
Knowing these things may serve to assure business owners that implementing crypto payments in their dealings should not come with any apprehensions. If they choose to integrate crypto as a means of compensation, business owners need not worry about inflation or the dropping and spiking of prices.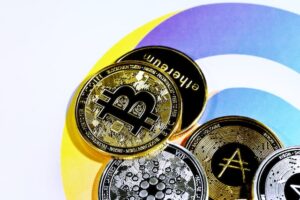 Advantages of cryptocurrency for business
Cryptocurrencies may reel in new demographics. 
Introducing crypto into your business may lead to your business entertaining new demographic groups. 
A survey published by Businesswire revealed that 40% of crypto-paying clients are usually new customers. What's even more notable in the study is that the number of their purchases is double those of credit card users.
Cryptocurrency could place your business in a favorable position.
A nascent industry, the cryptocurrency had given rise to new ways of owning assets. Tied to NFTs, another emerging industry, crypto has created new paths to more potential markets. If your business adopts cryptocurrencies for such usage, you can penetrate the NFT game and increase your revenue through a new stream. 
It could provide access to more capital and liquidity pools.
This could be done through the tokenization of traditional investments.
There are some things that Fiat Currency simply cannot do but is easy with crypto 
Since crypto is purely digital, it can serve as programmable money. This type of asset can allow accurate revenue-sharing in real-time. This can enhance transparency for reconciliation in back-offices.
The Takeaway
Based on the temper of the market, complete crypto adoption is looking to be a strong possibility. The studies concur that more firms are seeing the shift to crypto as a transaction tool in their customer base, and this is something that they need to cater to as soon as possible. As this is the case, the use of cryptocurrency in small business transactions have also become en vogue, creating more opportunities.
If you are a crypto believer, it might be apparent to you that the current crypto situation is just another hurdle that the sector could overcome. And once the sector emerges from this setback, integrating the asset in your business might just be an option worthy of checking out. 
by Sophia Young for blufolio