Although the terms Distributed Ledger Technology and blockchain are related, in practice, it often turns out that we do not know the elements that differentiate them. Therefore, please read the following article to learn more about what is a dlt in blockchain.
Table of contents
What is the meaning of DLT?
Distributed Ledger Technology, or DLT, is an electronic system or otherwise database for recording information not maintained by one specific entity. Distributed Ledger Technology allows us to store and use data that can be both decentralized (stored in multiple locations) and distributed (connected, communicable) in a private or public manner.
How does DLT work?
DLT solutions do not have a central data store. Instead, information is stored in at least a few locations on the network. This is achieved by using a peer-to-peer system and appropriate consensus algorithms. Data is distributed to several nodes on the network, replicated and synchronized. Each time the ledger is updated, all files are timestamped and have their cryptographic signature. This creates a database that is both secure and auditable.
What is DLT in blockchain?
Although the terms blockchain and DLT are often used interchangeably because both systems record information transparently through a decentralized network, blockchain is actually one type of DLT.
What is DLT technology? Distributed Ledger Technology allows data to be distributed, and blockchain was the first functioning type of DLT. A Distributed Ledger Technology uses nodes to record transactions and then replicate that information across the network. Blockchain collects this data into a block of data and combines it.
Blockchains are usually public, which makes them useful for viewing transaction history. This means that anyone can use the blockchain and then act as part of the surveillance network. This removes the possibility of control by any single governance entity.
DLTs, on the other hand, don't necessarily have to be publicly available and offer free viewing. They can include features and attributes that limit unauthorized access. A blockchain is essentially a sequence of timestamped blocks that records the overall status of the chain. This is then verified by cryptographic processes and a "proof of work" algorithm, which in this case is essential for network security. In theory, Distributed Ledger Technology offers improved scalability options.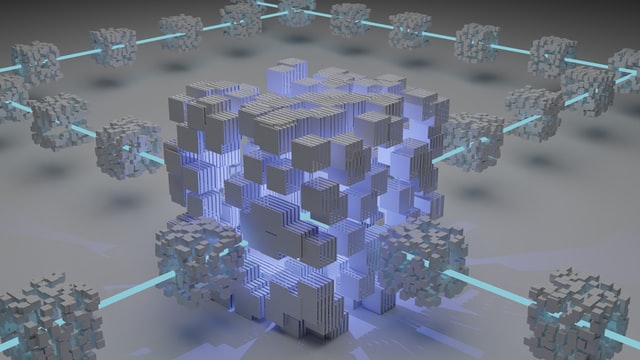 Are blockchain and distributed ledger technology DLT the same?
The most crucial difference to remember is that blockchain is just one type of Distributed Ledger Technology. While blockchain is a sequence of blocks, DLTs do not require such a chain. In addition, Distributed Ledger Technology does not require proof of work and offers – in theory – better scaling options, as we mentioned above.
Removing the intermediary party from the equation makes the concept of Distributed Ledger Technology so attractive. Unlike blockchain, a DLT does not necessarily have a blockchain data structure. A DLT is just a type of database distributed across multiple sites, regions, or participants. On the surface, a Distributed Ledger Technology sounds precisely like what you probably imagine blockchain to be. However, all blockchains are DLTs, but remember that not all Distributed Ledgers Technologies are blockchains. While blockchain represents a type of DLT, it is also just a subset of them.
Blockchain and DLT – discover benefits
Now you know, what is a dlt, so let's move on to the benefits. A Distributed Ledger Technology controls all information and transactions to users and promotes transparency. Moreover, DLT can minimize transaction time and is processed 24 hours a day, seven days a week, thus saving much money. The technology also facilitates increased efficiency and back-office automation.
DLTs, such as blockchain, are very useful in financial transactions. They reduce operational inefficiencies, ultimately minimizing costs and making investments more profitable. Greater security is also provided by their decentralized nature and the fact that blockchain DLTs are immutable. Blockchain technology offers a way to securely and efficiently create a tamper-proof log of confidential activities. It covers everything from international money transfers to shareholder records.
When you write data to a blockchain, it gets stored in the network. As a result, you gain an accurate and immutable audit trail when you have a series of transactions over time. This is very useful for financial audits. Having data stored where no one owns or controls it and no one can change what has already been written provides benefits similar to double-entry bookkeeping. Ultimately, this means that there is less chance of errors or fraud.
DLT in a blockchain – streamline your processes
In summary,while answering the question of what is a DLT in blockchain, we have to say that blockchain is a specific type of DLT. It's designed to record digital transactions or interactions and provides companies with much-needed transparency, efficiency and additional security. However, it's important to remember that these two technologies are not the same ‒ blockchain is just the tip of the proverbial iceberg.
Want to learn more about blockchain technology? Check out the following articles: