Cosmos is a platform based on blockchain technology and has open-source code. It was created to solve the problems of exchanging information between different blockchain networks in such a way that there is no need to involve various intermediaries – such as exchanges – in the process. Is this project likely to develop? What is a crypto Cosmos? Is Cosmos crypto a profitable investment? These and other questions will be answered in the rest of the article.
Table of contents
What is Cosmos Network?
The Cosmos network was established in 2014. Its author is Jae Kwon, who invited Marco Milosevic and Ethan Buchman to collaborate. As the official Cosmos website reads: Cosmos is an ever-growing ecosystem of connected applications and services designed for a decentralized future.
What's more, ATOM is the native coin of Cosmos and is used to manage the entire ecosystem. Three primary use cases for ATOM tokens can be distinguished:
it is used to pay transaction fees;
owning ATOM tokens allows you to participate in the management of the Cosmos Hub. The more ATOM you own, the more voting power you have in decisions about the platform;
you can use ATOM to earn passive income by delegating your tokens to a validator of your choice, receiving a share of the profits.
What is Cosmos crypto?
The cryptocurrency that the Cosmos project represents is ATOM. An essential piece of information worth mentioning is that the supply of ATOM is not limited, which means that this cryptocurrency is exposed to inflation. In addition, it is worth knowing that ATOM runs on the Proof of Stake consensus algorithm, named Tendermint.
The project took off in April 2017. At the time, the ICO offering raised $17.3 million in BTC and ETH, which accounted for 80 percent of the then-total supply of the cryptocurrency. As a result, the price of Cosmos (ATOM) crypto rose in a short time. In March 2020, the price fell well below $2, but by September 2021, the valuation had increased dozens of times and reached a ceiling of around $44.00. Currently, the Cosmos crypto exchange rate stands at $11.69.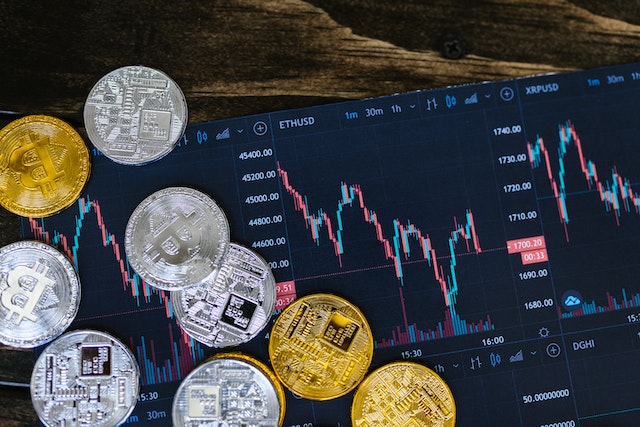 Is Cosmos a good crypto?
Cosmos is one of the few projects that started optimistically in 2022. From the end of December to mid-January 2022, Cosmos crypto saw an increase from $25 to $44. This was a rather spectacular jump, considering that the end of 2021 was not a good or favorable period for most cryptocurrencies. However, a lot is going on in this market, and the pace of change is dynamic. As we can see from the example of the crypto Cosmos, ATOM has been on a significant decline since April 2022.
Is 2022 a good time to invest in Cosmos (ATOM)? This is a question many speculators are asking themselves. Currently, Cosmos crypto can be used to draw passive income from the Cosmos network, which is expanding. One can conclude from this that Cosmos crypto will bounce back in the coming months. However, this is all speculation, and the fact that crypto Cosmos is susceptible to inflation makes it all the more difficult to make reliable predictions.
Does Cosmos crypto have a future?
The Cosmos network poses many challenges to developers. However, the focus on innovation and the desire to create "something great" through communication between different blockchains makes investors optimistic. Moreover, the availability of this cryptocurrency on the most popular exchanges, such as Binance, gives investors guarantees that it is a verified source. So indeed, anyone interested in multiplying capital on cryptocurrencies should take a closer look at the crypto Cosmos and follow its trading.
Similar articles: