The cryptocurrency market is snowballing. Although many of us think that bitcoin has a monopoly on the market, nothing could be further from the truth. In addition to this digital currency, there are many others – including Litecoin. What is Litecoin? Is Litecoin a good investment? How much is Litecoin worth? What is Litecoin used for? You will read about it in the rest of the article.
Table of contents
What is Litecoin?
Litecoin (LTC) is a peer-to-peer cryptocurrency that Charlie Lee created in 2011. Charlie Lee, also known by his nickname "Chocobo," is a computer scientist with a job for Google, among others on his resume, who is also closely associated with Bitcoin.
Litecoin cryptocurrency shares many similarities with Bitcoin and is based on its source code. This ensures the transparency of the project and shows that it is not an attempt at deception. Litecoin enables the creation and transfer of digital coins via an open-source cryptographic protocol. What is more, Litecoin uses a proof-of-work consensus mechanism, allowing users to dedicate computing power to it and earn LTC in exchange for verifying the block.
It is widely considered to be the first successful altcoin. Litecoin has a shorter confirmation time and higher transaction storage efficiency than Bitcoin, which means in practice that it means that transactions transacted with this digital currency are faster and cheaper, although generally with a lower volume.
Is Litecoin a good investment?
If you are wondering whether Litecoin is a good investment, it is worth knowing that this virtual currency acts as a faster and lighter version of Bitcoin rather than trying to be its competitor. Litecoin is programmed so that the maximum number of units produced is 84 million LTC. As with the BTC blockchain, the LTC cryptocurrency also reduces the block rewards miners receive during "halving" events, effectively reducing the rate at which new coins are brought to market.
The limited supply and the fact that Litecoin is classified as a rare asset make it a worthwhile form of investing spare funds. This is also demonstrated by the fact that Litecoin is traded on every major exchange globally.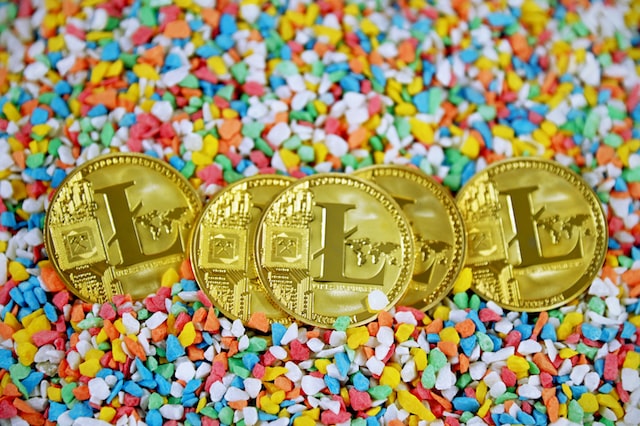 How much is Litecoin worth?
The current price of Litecoin, verified as of October 2022, is 54,010. As we have already mentioned, the Litecoin cryptocurrency has a circulating supply of 84,000,000 LTC. What is important, the highest recorded Litecoin price is €337,560, and the lowest is €0.980000. Historically, the LTC cryptocurrency reached its highest price in May 2021 during the last bull market. What the next months will bring – we will see. It's also worth knowing that the Litecoin cryptocurrency can be exchanged for euros (EUR), US dollars (USD), Korean won (KRW), and other fiat currencies. So, it can be concluded that the Litecoin cryptocurrency has significant potential that smart investors can take advantage of.
What is Litecoin used for?
Now you know how much Litecoin is worth. It is high time to discover what Litecoin is used for. Litecoin can be spent at various types of merchants. In order to pay with Litecoin, you need to download a wallet for this cryptocurrency, allowing you to purchase coins on an exchange. Once you have purchased Litecoin cryptocurrency, you can use it to buy various kinds of goods and services.
It is worth knowing that Litecoin, compared to Bitcoin, is relatively more financially advantageous and faster to trade, making it better suited for everyday use. All this makes more and more companies accepting digital currencies express approval of Litecoin as a form of payment. Thus, cryptocurrency can be considered "real money" and not just serve as a tool for transferring value between global currencies.
Similar articles: